Gameplay Trailer :
Name
:
Fieldrunners 2
Released
: July 2012
Platform
: PC, IOS, ANDROID
Genre
: Strategy


Fieldrunners 2 is a tower defense video game, the sequel to Fieldrunners, developed by Subatomic Studios. It was released on July 19, 2012 as an exclusive iOS title, specifically designed for the iPhone and iPod Touch.

Fieldrunners 2 offers 25 levels with 4 different zones and backgrounds. Players choose at most 6 types of weapon and 3 types of consumptive item at the start of each level. Fieldrunners 2 also offers 3 levels of difficulty for players, which are casual, tough, and heroic modes. Just like any other tower defense game, players then pick a tower and slap it down on the map, wait for enemies to start to falling, and earn more cash to build more towers.

Players lose the game when the amount of escaped enemies reaches 20. If players win, the game will give players 1 star (for casual mode), 2 stars (for tough mode), or 3 stars (for heroic mode). Players can choose to continue playing in the endless mode after passing each level. No matter players pass the level or not, the game will give players a certain amount of coins according to players' performance. Players can use earned coins and stars to buy more powerful towers. Fieldrunners 2 offers 25 types of weapon, and 5 types of items. Each of them has distinct range, effect, and weakness.

Compared to Fieldrunners, Fieldrunners 2 has some major improvements. The variety of towers and enemies increases 3 times in Fieldrunners 2. Fieldrunners 2 supports the iPhone, iPod touch, and iPad systems (including the latest iPhone and iPad with Retina display). One of the larger improvements is the addition of a path marker. In the original game, the unending stream of fieldrunners would follow a very specific path. They'd pretty much march straight until they hit something. In Fieldrunners 2, the tiny soldiers, tanks and motorcycles will stream across the battlefield more realistically, constantly changing their route depending on where players place their towers. They'll no longer walk right into the heart of a flamethrower pit.


Minimum Spec

OS: Windows XP
Processor: Intel Pentium 2Ghz
Memory: 1GB
Hard disk space: 1GB
VGA: Directx compatible


Screenshots :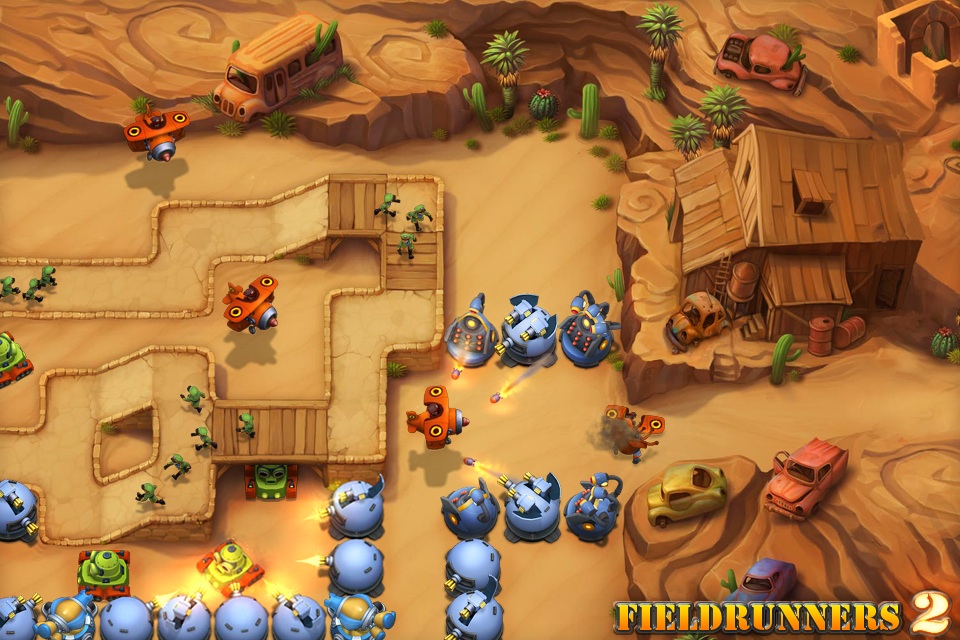 Don't forget to share on this below,
we really appreciate your support :