Gameplay Trailer :
Name
:
The King of Fighters XIII
Released
: July 2010
Platform
: PC, PS3, XBOX 360, IOS, Android
Genre
: Fighting

The King of Fighters XIII is a fighting game in the The King of Fightersseries, developed and published by SNK Playmore originally in 2010. King of Fighters XIII was released for Japanesearcades on July 14, 2010.

The game removes some of the gameplay system features used in the prior game: the Guard Attack, the Critical Counter, the Clash System, as well as the dynamic, zooming camera. In their place, three new features have been added. The first of the three is the new EX Mode, which convert each character's super moves into more powerful versions that allows one bar from the player's power gauge for EX Special Moves and two bars from the player's power gauge for EX Super Special Moves. Another new feature is the Hyper Drive mode, which gives the player unlimited use of Drive Cancels for a while once the Hyper Drive Gauge has been maxed, and the last new feature confirmed for the game is the Drive Cancel, which opens up new combo possibilities. The game also marks the return of the multi-bar power gauge that was introduced in The King of Fighters '97. In addition to standard and EX Desperation Moves, a new class of Desperation Move called Neo Max is included in the game and require that three stocks of gauge be exchanged to perform one, making it similar to Hidden Super Desperation Moves from The King of Fighters 2002 and Leader Super Special Moves from The King of Fighters 2003. These can also be cancelled from standard Desperation Moves, making them similar to the Dream Cancels from The King of Fighters XI.

The console version is based on the 1.1 update of The King of Fighters XIII arcade which fixed several issues from the original version. It also contains a story mode that influenced by the player's actions with various perspectives being available. The mode is presented in visual novel style alongside fights, something considered to be hard to include in the arcade version by the SNK Playmore staff. Other modes shown are Arcade, Practice and Challenge. The online gameplay is based on the one included in later versions of The King of Fighters XII, which fixed the issues the initial one had.
Minimum Spec

OS: Windows XP
Processor: Intel Pentium 4 2Ghz
Memory: 1GB
Hard disk space: 5GB
VGA: Geforce 9500GT
Screenshots :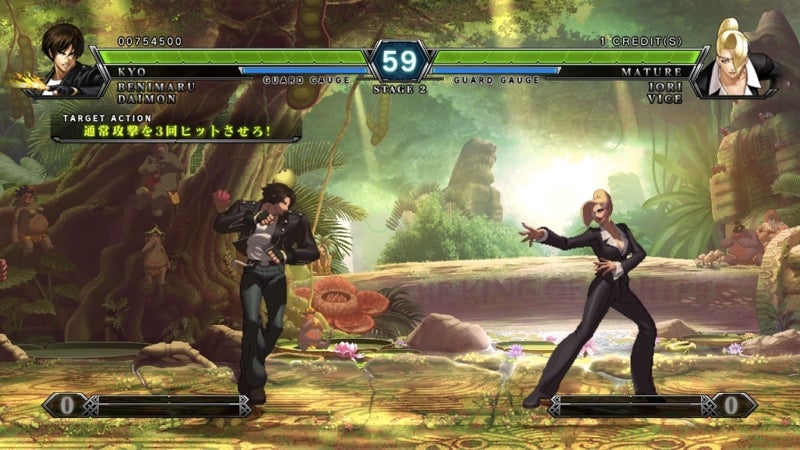 Don't forget to share on this below,
we really appreciate your support :