New method of gaming once again explored by this game under 11 Bit Studios. Their latest upcoming project for past this years to accomplish their game for Playstation 4 platform titled

This War of Mine: The Little Ones, coming on January 29th, 2016.
Story of a child in the middle of war as the main character, we are not playing any adult here with their gun shooting enemies troops or destroying tanks. But more with a stories of a kid perspective through a little boy eyes. Laugh, cry, fear.. "Kids always be a kid" even at war, they still love to play, in every chance they wanted to go outside and playing around. But that's not mean kids doesn't have a clue what's happening around, They always know, what war mean and do. They are just really hard not to care so much, they have power to overcome fear for fun.
Everything is real, sensation and feel, how kids to handle in a war. Based on the award-winning This War of Mine, The story of Little Ones puts you in charge of a group of adults and children stuck in the middle of hell, trying to survive in a besieged city; struggling with lack of food, medicine and constant danger. Survive is the only option, so how far will you go to make it through another day.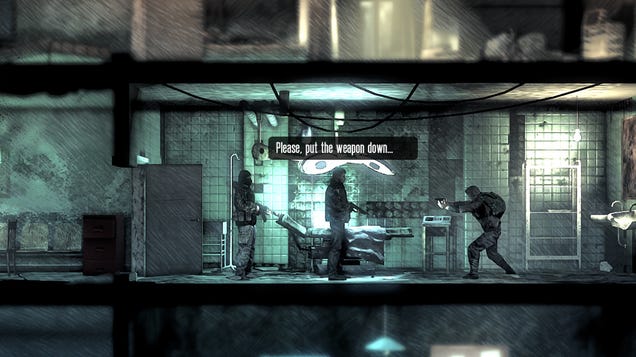 In real action, situation and condition. Certainly your life is a choice in every way. This game let you choose another fate in your hand. Like it or not, choice must be made. What you choose is affect in the future such let people suffering without food, or send those capable to a war.
Do you have strength to face this game ? make sure you are well prepared for next year if you are interested in this game.
Don't forget to share on this below,
We really appreciate for your support by sharing :