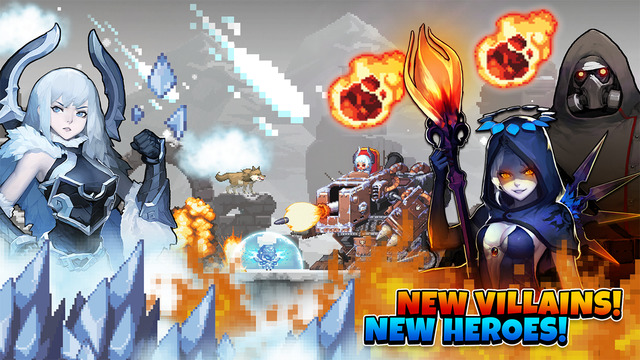 Crusaders Quest Best Team Combo
Here's some cool combination of hero in Crusaders Quest that I can share, i have mix which I think is a unique combination that you can form in order to achieve a great combo team for war duel in colosseum
Chill Breaker Combo
Heroes : Sasquatch (leader) + Achilles + R-0
This combination clearly decreasing the attack power and burning enemy SP drastically.
First use the Sasquatch 3 blocks followed by one block achilles and (1/2/3) block/s R-0.
Thunder Shield Combo
Heroes : Korin (leader) + Drake + Thor
First use one block of Drake for critical buff and then use 3 blocks Korin (hope it'll critical for Drake shield buff) followed by one block by Thor. the shield can withstand attacks received by Thor, and Thor can counter attack more longer with his counter thunder.
Crusher Combo
Heroes : Gon + Susanoo + Mundeok (leader)
This is my favorite combination,
Use the one block of Gon to trigger her passive skill, then use 3 blocks on Mundeok (Gon shoot Arrow), then use again one block from Gon and use one block of Susanoo (Gon shoot Arrow again), usually with this 4 steps you can make the enemies lay on the ground.
Gunner & Gambler Combo
Heroes : Crow + Vincent (leader) + Sneak
This combination can be scary if it can be executed perfectly,
First use 3 blocks Vincent followed by one block Crow,
Vincent raw damage calculation (attack without weapon at level 60 = 720 att),
GP-7 Shot (300% * 720 att) = 2160 dmg * 2 (crit) = 4320 dmg
passive increase of 45% att att = 1044,
2 xtra xplosive (300% * 1044) = 3132 dmg
30% exploding twice = 3132 dmg
so the total Vincent (perfect) damage for 1 turn without any weapon and upgrade (4320 + 3132 + 3132) = 10.584 Dmg
We'll always update for another Combo or when the Game is updated, so don't forget to share on this below, we really appreciate your support :