Gameplay Trailer :

UMBRA is upcoming action hack n slash rpg game. Dare to say "Next Gen Hack & Slash" game by it's developer : Solarfall Games using Cry engine. After watching video trailer you will agree their quote. UMBRA opened kickstarter 28 days from now which you will be able to taste UMBRA game early. You can see on steam after 28 days for it's kickstarter. Notice that kickstarter date can be changed any time.


UMBRA :

​Umbra melds much-loved hack-and-slash gameplay with state-of-the-art graphics, and underpins it all with a truly modern AI. Inspired by the classic Diablo 2 game, Umbra aims to deliver an intense and rich action RPG game. Personalization of your character build is free, deep and highly customizable, and many secret are hidden in the world.
Story :
An isometric view open world action-RPG taking place in a corrupted world falling apart. You are a former officer of army of the Human Republic, forced to flee the death penalty because of the magic powers you have unwillingly developed. Being tracked down by humans and hunted by the monsters of the Wild, you are recruited by a mysterious group of Templars. And thus an epic adventure begins in which you will wander the world to fight inhuman, mutated monsters and discover the terrible secret of the extinguishing mankind.

The game features a unique mechanic called Apocalyptic Form that allows players to shape shift into a highly customized character! You're free to mold your character thanks to a deep and rich customization system. And thanks to our complex crafting mini-game and our housing module you will be able to make your adventure feel as YOUR adventure!

Features :
Open World : Discover the world and enjoy it at your own convenience
Exploration and experimentation is rewarded with new powers, attributed accordingly to your play style!
Free character development - No class limitation. You have three resources: Rage, Stamina and Mana, and they all interact with each other in order to balance gameplay.
Apocalyptic Form: According to your play style, you will develop special powers for your character, changing their abilities and look. Fierce melee warrior may gain a third arm to equip with a new weapon; a fire caster will have their skin turn into lava and heal from fire. Even wings and horns might appear on your character depending on your actions!
Tons of Loot: Weapons, Armor, Potions and randomly generated magic effects for more gameplay diversity!
Semi procedural Weaponry: Blades, pommel and guard details can be randomized for more unique gear in the game!
Advanced Crafting mini-game: Build your own weapons and armors thanks to a complex and challenging module in Umbra
Tons of Destructible environments: From small walls to complete parts of an area. We hope you enjoy it!
Housing: Create your own house and proudly showcase your special gear!
Mature story full of secret to discover exploring the world
Kythera AI system: The automatic real time navigation adaptation of Kythera adapts to any change in the physics of the world, allowing us to create exciting scene including large portion of levels collapsing or moving and fighting on the back of giant creature, creating never seen before gameplay situation!
Dungeon challenge (Stretch goal): Transform a special part of your house into a dungeon and challenge other player to survive the onslaught!
Multiplayer mode (stretch goal): Multiplayer is an ambitious goal we would love to achieve, but it must be done correctly. We plan to have different interesting stretch goal for you that will allow us to build the foundation of the multiplayer. In the best case scenario, we would like to have the following mods: Dungeon Challenge (see above), Co-Op mode, andCompetitive Plaver vs Player vs AI.

Screenshots :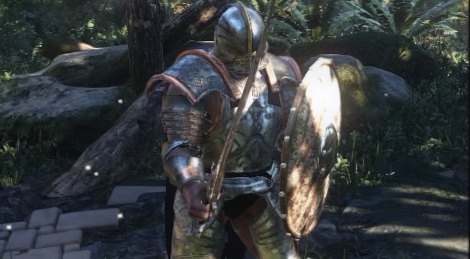 Don't forget to share on this below,
we really appreciate your support :